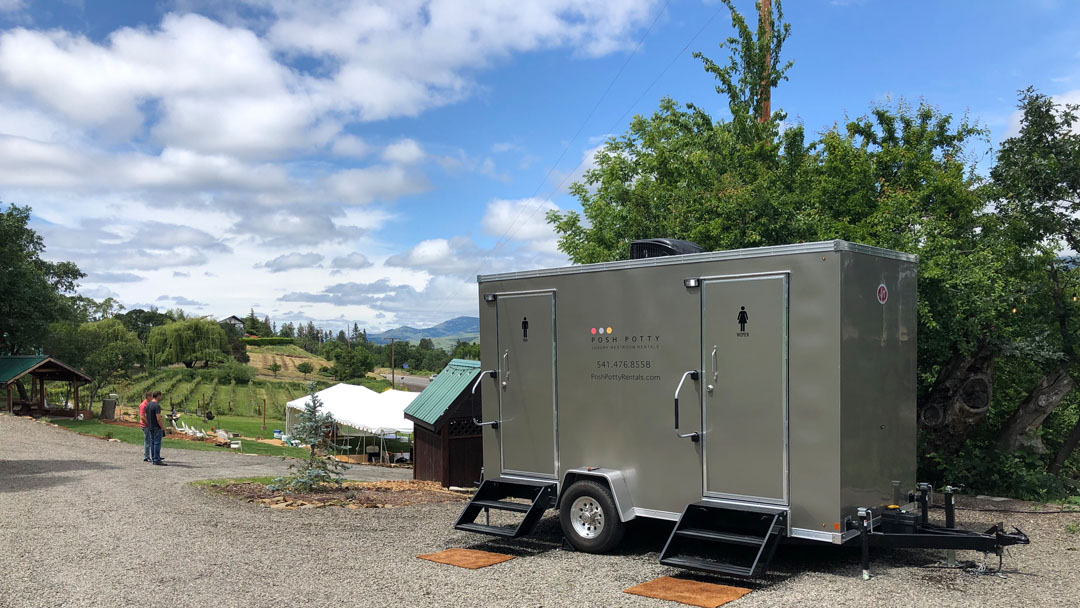 Luxury Restrooms Trailers
Proudly Serving Southern Oregon and Northern California Regions
Will I need to provide you with supplies?
We provide all the supplies and always leave extra supplies in the cabinets. Clients are shown how to access the supplies.
What if I do not have electricity available?
Generators are available for an additional fee. Just let us know and we can discuss your options with you. Just let us know and we can discuss the options with you.
Is water and electricity required?
Both are needed for everything to function on the Luxury Restroom Trailer. Our trailers travel with only a small amount of fresh water. We commonly hook up to a municipal water system at the event or use a water source on or near the property to fill the on board reserve tank. A minimum of 30 amps of electricity are required for all amenities to function. Some units are outfitted with solar systems and batteries. This allows the use of the trailer without hookups but without heating, air conditioning, heated sink water, or fans.
What is the cost of the portable restrooms?
There are several variables and needs involved in putting together a price for your event. We offer a no obligation quote (and we aren't pushy). Just go to our contact us page and give us some information or give us a call and we will put that together for you.
Who will clean the restroom after the event?
We will take care of all the cleaning before and after your event. You don't have to worry about any of that. It's part of the package.
What if I do not have water available?
Our trailers all have on board freshwater tanks and pumps. External freshwater holding tanks are available for large/long term events.
Just let us know and we can discuss the options with you.
Do you deliver the luxury restroom trailer to my location?
Yes we do. Our drivers are trained to maneuver the trailers safely into the space you have designated at your event. Occasionally, we require a site inspection if space is limited, or we have not been to the location before but are aware the property is difficult to navigate.
Do you offer terms for longer term restroom rentals?
Yes, we can work out rates for a longer term rental if needed. We address these requests on a case by case basis.
Do you bring your own water hose and extension cords?
Yes. We bring a 100ft extension cord and water hose to each location. We would need to know if the distance is any further than this.
What do I need to ask the venue to have available?
We need 20 amps of power with a 110v outlet (although 30 amps or more allow the water heaters for the sink to be plugged in). Whether we use an existing water source for the event itself or to fill our freshwater tank before the event we will need access water when we arrive.